超傳波 Hyper Transmission Live Performance
HYPER TRANSMISSION超傳波 參展紀錄
►2019 德國-威瑪藝術節
►2019 蒙古-烏蘭巴托第四屆國際媒體藝術節
►2018 德國-Sonic Territories
►2018 臺北藝術節-噪集
►2018 美國聖塔菲國際新媒體藝術節
►2018 澳洲HIGH TIDE 17 Fremantle Biennale
Hyper Transmission is a synthesis of surrounding sonic and visual contemplation.
Elevates the invisible void with silent glow, Hyper Transmission is a synthesis of surrounding soundscape and visual contemplation performed by Taiwanese sound art pioneer Wang Fujui . Through kinetic hypersonic speakers, tightly audio beams travel through audience ears like laser refracting in-between several mirrors. All random noise sound waves are captured in real time and magnified as static images in front of your eyes.
Wang Fujui uses multiple directional hypersonic speakers to generate several tightly focused beams of sound. The sound would like wind which blowing through our ears from various directions. Through movement of the kinetic installations, all these audio beams are similar as Laser light refracting in-between several mirrors.The artist purposely creates the multiple refractions of audio beams in the space, through our listening experience, in order to create a new sounding space. As waves generated by wind blowing across the ocean surface, all the random noise sound waves travel through the space. Close the eyes to completely experience this amazingly audio space, which leads our imagination and spirit freely release to the state of the emptiness.
『HYPER TRANSMISSION 超傳波』作品為台灣聲音藝術家王福瑞的展演之作。王福瑞​從在台灣​的聲音藝術扮演極關鍵的人物,近二十年的創作與推廣,其工作室不斷執行相關展演計畫,逐漸付出讓聲音藝術在台灣成為一股被認可與重視的藝術領域。
​王福瑞使用多個指向性喇叭,運用超高頻率的載波,讓喇叭發出如聚焦的「聲束」窄波。指向聲音來自不同方向,如風一般從人們耳邊切過;極窄的聲波的傳送有如兩面鏡子般互相折射,喇叭則透過動力裝置、與空間牆面的折射,產生如雷射光一般的、在空間中不斷繞射與彼此撞擊。在聲音地景中,​王福瑞將使用多個指向性喇叭為文本,讓聽眾與歷史中的槍林彈雨撞擊在一起,或混合海浪潮汐的細膩情緒,製造出整體的細聲流動,而聽者可以隨意走動,讓耳朵變換不同方向位置,體驗接受來自不停轉動指向性喇叭​​​的聲音,描繪​​抽象形體​的​​輪廓​,​​聽者結合自身想像搭配來自指向性的聲音,建構出開放的文本,讓聽者產生屬於自身的聆聽感受,另外聲音也同時劃開空間裂縫,讓空間中的聽者接收到風切般的聲噪、子彈、海浪與金屬碰撞聲,聲音在不斷折射與交錯中,聲音片片堆疊,產生一種新共鳴聆聽經驗,也在原本的場域建構出新的空間感​。
王福瑞巧妙地將​喇叭所發出的各種音頻、隨機混合的噪音,加上海浪般的點狀雜音,不斷地在空間波動變化。若聽者閉上眼來感受,仿若看著單純以水構成、但富有千變萬化層次感的海洋波濤,在海浪持續永恆地不斷拍打的聲音中,引領我們至浩瀚無垠的想像界,或引至每個人相同或互異的記憶,沉浸於​​聆聽狀態。​
(文:盧藝)
►Hollow Noise 雜音空態(installation form)
http://soundwatchtw.blogspot.tw/2011/02/2011.html
►2017 Liquid Architecture
液態建築超傳波巡迴表演
1.http://www.liquidarchitecture.org.au/program/make-it-up-club-fujui-wang/
2.http://goodluyi.com/?page_id=2639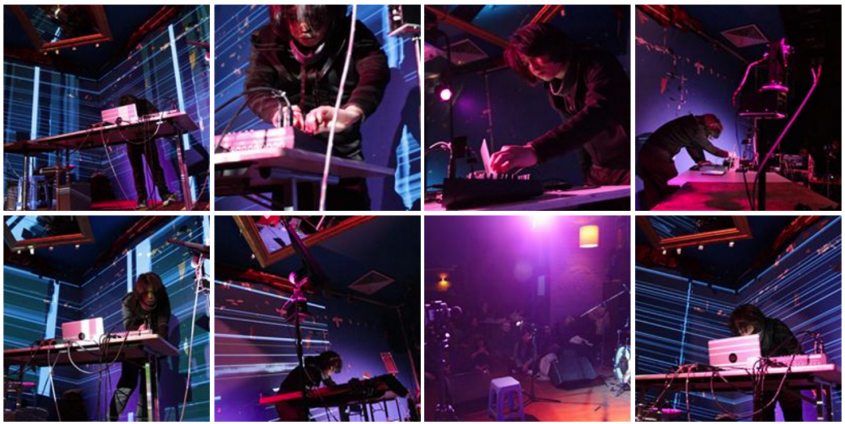 In Fujui Wang's hands, the directional of multiple speakers is used to create a dynamic listening experience of subtly shifting resonances. Sounds progress and slip away; some are loud and some are stealthy, and within the contours and planes of swelling amorphous noise, a more delicate soundscape begins to emerge. Wang's sonic landscape is fine and fissured, composed of hundreds of tiny individual clicks and hisses and bursts of metallic tone. Wang's control of the composition presented a strong and at times aggressive field of non-human sounds, but what was surprising for this listener was the surprisingly organic sounds that he allowed to enter, in distorted but recognisably warm and mellow tones; a formal swerve that expanded the usual noise palette while simultaneously providing an even more disquieting effect from each fleeting wave of sound.
— Danni Zuvela and Joel Stern, Artistic Directors, Liquid Architecture, 2017
— 文字來自澳洲液態建築聲音組織,藝術總監 Danni Zuvela 和 Joel Stern 於2017寫下
►2015 City sonic
比利時 城市之音:國際聲音藝術節
Taiwan-Belgium Sound Art Exchange Project
Hyper Transmission – Fujui Wang Live Performance,2015(Fujui Wang+Yi Lu)

http://citysonic.be/festival2015/en/fujui-wang/
►2018 臺北藝術節-《噪集》"Noise Assembly" by Asian Meeting Festival(AMF)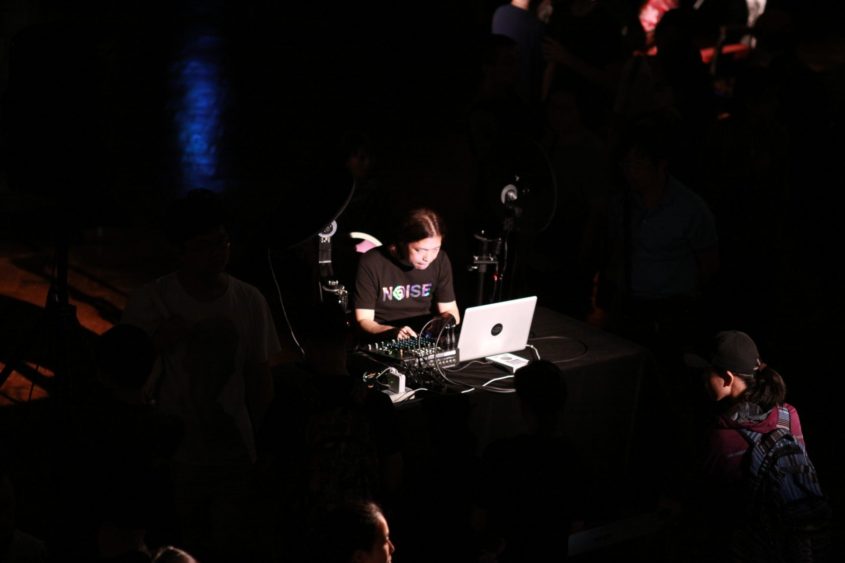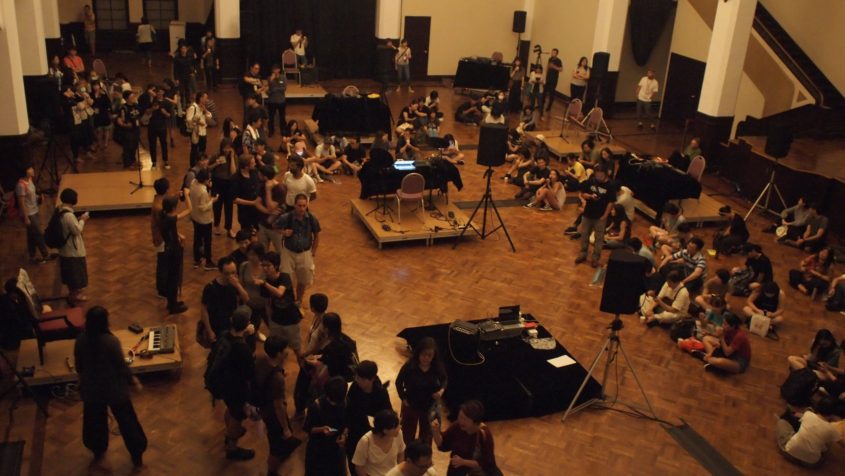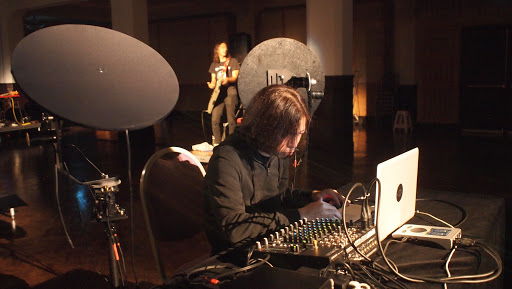 (photos credit to the organizer)
►2018 德國柏林 Sonic Territories
2018.09.15 Kunstquartier Bethanien, Studio 1,柏林,德國 Berlin, Germany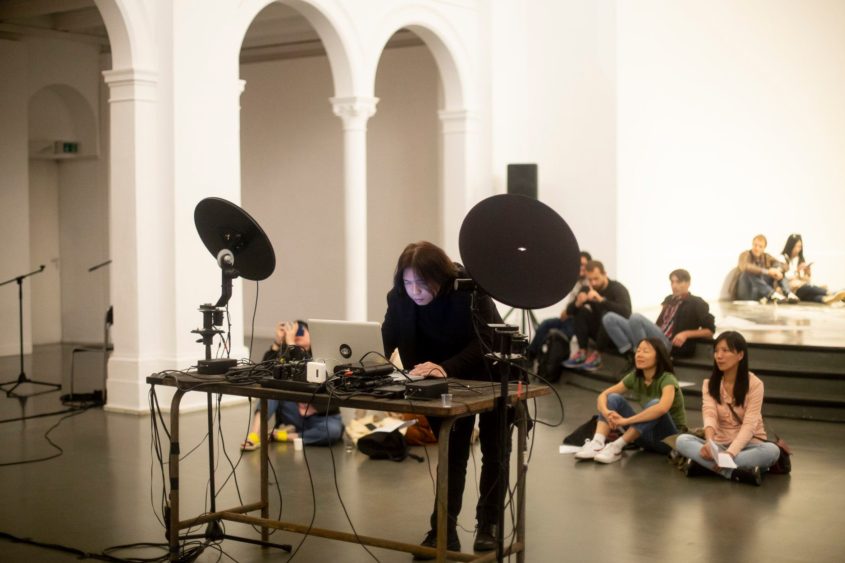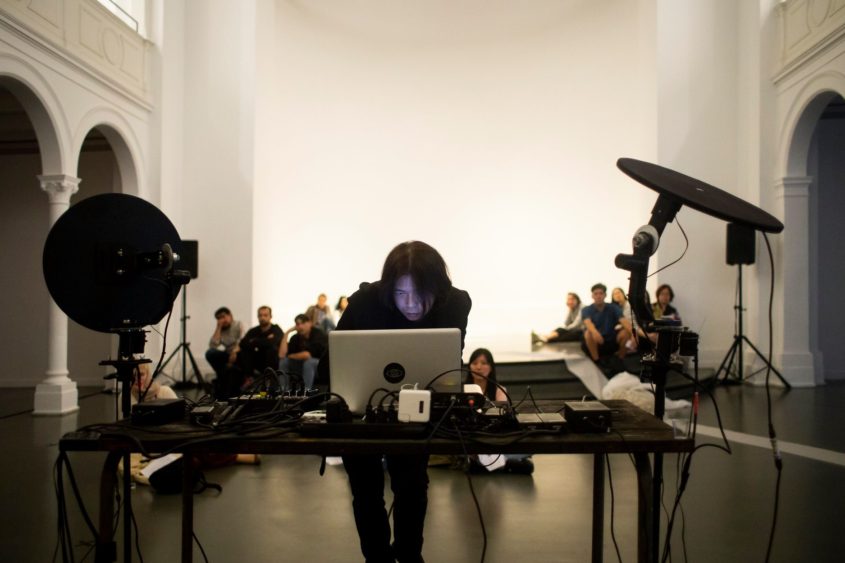 ►2018 英國 失聲祭演出在倫敦