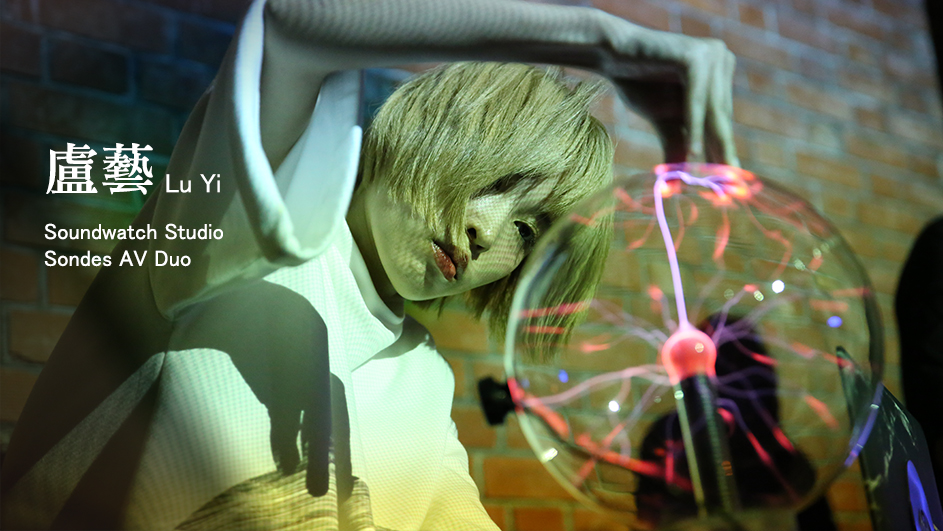 Lu Yi is a sound artist and a member of Soundwatch Studio. She obtained a master's degree in Applied Arts from National Chiao Tung University, Taiwan. She did further study in San Francisco at the Academy of Art University and the San Francisco Art Institute. She began working in the sound art sphere in 2011 when she founded Soundwatch Studio with Fujui Wang, a pioneer of sound art in Taiwan. The two have performed live together at events and festivals including "Shoot The Pianist" (Birkbeck School of Arts, University of London), "On Site" (Taipei Artist Village), "B!as 2015: Taiwan-Belgium Sound Art Exchange Project / City Sonic 2015" (Mons, Belgium), Digital Art Festival 2015 "Digitopia" (Songshan Tobacco Factory, Taipei), "Ting Shuo Has Performance" (Ting Shuo Studio,Tainan), "Craked Sonic" (The Wall,Taipei) and Lacking Sound Festival "Listen 100" (The Wall,Taipei).
Lu Yi also collaborates with a French visual artist Sébastien Labrunie under the name Sondes AV Duo. The two have presented a series of real-time interactive audio/visual performances at events including "Hypersonic 2016" (TNUA,Taipei), "Xue Xue Party night" (Xue Xue Institute, Taipei), Lacking Sound Festival "Listen 103" (The Wall, Taipei) "The Book Of Daughters" (Venue, Taipei), "Generate the Night" (Taipei Artist Village), "Pattern Calling" (National Theater & Concert Hall, Taipei) and "Electric Indigo" (Chiang Kai-shek Memorial Hall, Taipei).
In addition, Lu Yi has drawn on her previous experience working in education to organize sound art workshops at several prestigious institutions, including The Taipei National University of the Arts, Museum of Contemporary Art Taipei, The National Taiwan Science Education Center and The Shiner Education Foundation.
Performances
Soundwatch Studio Performances
— Lacking Sound Festival in London, Somerset House, 2018
— Shoot The Pianist, Birkbeck School of Arts, University of London, 2015
— On Site, Taipei Artist Village, 2015
— B!as 2015: Taiwan-Belgium Sound Art Exchange Project / City Sonic 2015, Mons, Belgium, 2015
— Digital Art Festival 2015 Digitopia, Songshan Tobacco Factory, Taipei, 2015
— Ting Shuo Has Performance 8, Ting Shuo Studio, Tainan, 2015
— Craked Sonic, Korner, Taipei, 2015
— Lacking Sound Festival Listen 100, The Wall, Taipei, 2015
Sondes AV Duo Performances
— Voice of Shantou, Shantou University, China, 2018
— Social Sound House Taipei, ENTERING TONE, Sono Lab, Taipei, 2018
— Electric Indigo NTCH 30th Party, Chiang Kai-shek Memorial Hall, Taipei, 2017
— Pattern Calling, National Theater & Concert Hall, Taipei, 2017
— The Book Of Daughters, Venue, Taipei, 2016
— Gazing into the Wilderness, Revolver Live House, Taipei, 2016
— One Night of Phantasium with Buke and Gase, Spaced Out, Taipei, 2016
— Lacking Sound Festival Listen 103, Changee, Taipei, 2016
— Xue Xue Party, Xue Xue Institute, Taipei, 2016
— Generate the Night, Taipei Artist Village, Taipei, 2016
— Hypersonic 2016, Taipei National University of the Arts, TNUA, Taipei, 2016
Workshops
— "Hacking Buddhist Chanting Machines Workshop", MHS, London, 2018
— "Dirty Mixer", Digilog Lab, Taipei, 2018
— Mixed Medias Workflows Workshop, Cheung Kong School of Art & Design, Shantou University, China
— "Little Sonic", Art Bank Taiwan, Taichung, 2017
— "Sound Drawing Workshop", National Kaohsiung Center For The Arts, Kaohsiung, 2017
— "Musical Instrument Workshop", Park Lane by CMP, Taichung, 2017
— "FabCafe Taipei Glitch Knit x Fab Demo Party" Demo presentation, FabCafe Taipei, 2017
–"Sound Drawing Workshop",Taipower Building, Taipei, 2016
— "Becoming an electrictronic musician", workshop series supported by The Shiner Education Foundation and presented from 2015 to 2017 at Wucheng Elementary School (Nantou), Liyu Elementary School (Nantou), Long-Hua Elementary School (Nantou), Sin-Siang Elementary School (Nantou), Renhe Elementary School(Nantou), RuiTian Elementary School(Nantou), YongKang Elementary School(Nantou), KwongYuan Elementary School(Taitung), WanTan Elementary School(Chiayi), Merrill Elementary School(Chiayi), TaoYuan Elementary School(Chiayi), HeShun Elementary School(Chiayi), Guangrong Elementary School(Chiayi), LiMing Elementary School(Chiayi), Wunhe Elementary School (Tainan), LongCi Elementary School (Tainan), Houbi Elementary School (Tainan), Jhupu Elementary School (Tainan), KunShen Elementary School(Tainan), Jia-Nan Elementary School(Tainan), Chong-Xi Elementary School(Tainan), ZhangShan Elementary School (Kaohsiung), HingChung Elementary School (Kaohsiung), TongAn Elementary School(Pingtung), Qiangyuan Elementary School(Pingtung), JianChing Elementary School(Hualien), Changqiao Elementary School(Hualien), LinRong Elementary School(Hualien).
— "DIY x Electromagnetics x Recording", National Taiwan Science Education Center, Taipei, 2015
— "Chifeng Street Sound Collection", Museum of Contemporary Art Taipei, 2014
— "Impromptu Noise Sound", National Taiwan Science Education Center, Taipei, 2014
— "Electronic Noise Instrument Sound Art", Museum of Contemporary Art Taipei, 2013
— "Artistic Aesthetics", OttO2 Art Institution Shihlin, Taipei, 2012
Artist Residence
— Artist Workshop, Hacking Buddhist Chanting Machines Workshop, MHS, 2018, London
— Artist Talk and Demo, Somerset House, 2018, London
Group Exhibitions
— Will You Be There? Loom 02, Project Fulfill Art Space, Taipei, 2018
— Zhengbin Art Festival, Keelung, 2018
— Pop-up Group Exhibition, RC Space, Taipei, 2015 Link
— Narrative Art Group Exhibition, Diego Rivera Gallery, SF, USA, 2011 Link
— Meaningful Painting Group Exhibition, Diego Rivera Gallery, SF, USA, 2011
— Open House of NCTU, NCTU Gallery, Hsinchu, 2009
— Traditional Chinese Painting Group Exhibition, Tangno House, Taitung, 2008
Art correspondent
2012.11.01Regulation of art-interview Digital Artist SHEN SHENG-PO
(http://artmagazine.com.tw/ArtCritic/article401.html)
2012.11.05Art group"Superflex"Flooded McDonald's report
(http://artmagazine.com.tw/ArtCritic/article380.html)
2012.05.19Art group"LuxuryLogico"-interview Artist Chang keng-hau
(http://artmagazine.com.tw/ArtCritic/article241.html)
2012.04.14「Even They Never Met」solo exhibition-interview Artist Niu Chun-Chiang
(http://artmagazine.com.tw/ArtCritic/article214.html)
Design
— Book, Sound State-Art works of Fujui Wang, 2014
— Book, More Sound Thesis, 2014
— T-shirt: White Fungus magazine interdisciplinary art event series-Depopulate
— Design, LURKING WAVES-Collected Objects from the 90s of Fujui Wang, 2013
— Soundwatch CI of advertising page of White Fungus, 2012
— Design, Soundwatch Facebook, 2011
— DM, Hyper Transmission Performance Tour of Fujui Wang, 2011
— Poster, Performance Tour of Fujui Wang in NZ, 2011
Part Time at Museum of Contemporary Art Taipei
【2013-2016】
— A Tale of Two Cities-Lu Hsien-ming Exhibition: Glimpses of Cities/Kuo Wei-kuo Exhibition: Gardens of Spirits (1/17-3/15, 2015)
— Hsi Shih-Pin—The Memory Palace/Gao Lei-WINDOWSKY (9/06-11/12, 2014)
— Homeland: Edge of Desolation—Hwang Buh-Ching Solo Exhibition (6/28-8/24, 2014)
— The Door is Always Open—Gary Baseman Solo Exhibition (6/28-8/24, 2014)
— K-P.O.P.-Korean Contemporary Art (4/19-6/15, 2014)
— History Re-presented-Cai Zhisong (1/25-4/6, 2014)
— Post-humanist Desire (11/23,2013-1/12, 2014)
— HYPER TRANSMISSION by Fujui Wang (10/4-11/3,2013)Link
— Risk Society-Individualization in Young Contemporary Art from Germany (9/14-11/10, 2013)
— Will things ever get better?- Xiang Jing (7/6-9/1, 2013)
— The 11th Taishin Arts Award Exhibition (4/27-6/23, 2013)
— The Innovationists: The Spectacular Journey of New Media Art (2/2-4/14, 2013)
— Telofossils-Gregory Chatonsky Solo Exhibition (2/2-4/14, 2013)
— Reading Li Shan (11/24,2012-1/20, 2013)
Education
— ACE Fall Program in Content, Narrative, and Meaningful Painting, San Francisco Art Institute, San Francisco, CA, USA
— Personal Enrichment Program in Fashion, Academy of Art University, San Francisco, CA, USA
— M.A Institute of Applied Arts, National Chiao Tung University, Taiwan
— B.S Department of Arts and Crafts Education, National Taitung University, Taiwan
Soundwatch Studio Projects
【2018】
— Will You Be There?, Project Fulfill Art Space, Taipei
— Mycelium Network Society at Taipei Biennale 2018. Opening night performance, Taipei Fine Arts Museum, Taipei
— FUTURE: FUTURE Panasonic 100th Anniversary Exhibition, Huashan, Taipei
— Sondes "Voice of Shantou 2018", Shantou University, China
— Sondes at Nuit Blanche 2018, DH Cafe, Taipei
— Lacking Sound Festival in London, Somerset House Deadhouse, London
— Lacking Sound Festival in London, CafeOtO, London
— Hacking Buddhist Chanting Machines Workshop, MHS, London
— Sonic Territories Berlin, "Hyper Transmission", Kunstquartier Bethanien Studio 1, Berlin
— Taipei Arts Festival to present Noise Assembly, Zhongshan Hall, Taipei
— Dirty VGA Workshop, DigiLog, Taipei
— Project Fulfill Art Space 10th Anniversary Special Projects, Project Fulfill Art Space, Taipei
— Noisound Fest.,Boven, Taipei
— ZHENGBIN ART FESTIVAL, Zhengbin, Keelung
— Soundwatch X SoundObject Exhibition II, DigiLog, Taipei
— CURRENTS 2018, Santa Fe, New Mexico, USA
— Mixed Medias Workflows Workshop, Cheung Kong School of Art & Design, Shantou University, China
— Live Performance, Ivy Palace, Taipei
— Sondes Mirages Photo Exhibit, Bopiliao Historical Block, Taipei
— Synesthesia, sonic space talk, NCTU, Hsinchu
【2017】
— Liquid Architecture and White Fungus present SUBLATE, Korner, Taipei
— Liquid Architecture Social Sound House Taipei, SONOLab, Taipei
— PTV Film project, Taipei
— Electric Indigo party night on NTCH, Chiang Kai-shek Memorial Hall Democracy Square, Taipei
— Pattern Calling, NTCH Theater Cafe, Taipei
— Mini Maker Faire New Taipei, Maker visits to your home, SONOLab, Taipei
— Taoyuan Art x Technology Festival, Group Exhibition, Taoyuan Cultural Center, Taoyuan
— Light and Sound of The Port, Keelung Cultural Center, ​Keelung
— HIGH TIDE 17 Fremantle Biennale, Fremantle, Australia
— LA x Make It Up Club/Make It Up Club, Bar Open, Fitzroy, Melbourne, Australia
— OVERGROUND, Supersense Festival, Arts Centre Melbourne, Australia
— A​rtist talk at RMIT University, Melbourne, Australia
— Liquid Architecture Tour Performance, The Institute of Modern Art, IMA, Brisbane, Australia
— LISTENING TO TRANSPARENCY, Group Exhibition​​, Shanghai Minsheng Art Museum, Shanghai, China
— Sondes at The Book of Daughters, venue, Taipei
— Sondes at One Night of Phantasium, Space out, Taipei
— Sondes at Party, Revolver, Taipei
— White Fungus Depopulate 07, Korner, Taipei
— SONOLab Openday, SONOLab, Taipei
— 《Sound Canvas》,《Sound BulbII》Group Exhibition, Hong Kong Art Basel, Hong Kong
— Fujui Wang & Lu Yi Sound Objects Exhibition, DigiLog Lab, Taipei
— Artist Talk, hippocampus, Tainan
— Live Performance/Ting Shuo hear say, Tainan
— GUETTEURS – FOCUS FRANCE – TAÏWAN, Group Exhibition​​, Grame, Ecole Nationale des Beaux-Arts de Lyon, France
【2016】
— White Fungus 《theeditorial》performance, Taipei Fine Arts Museum, Taipei
— TAD party night, XUE XUE INSTITUTE, Taipei
— SLIPPAGES《Sound Canvas》, Group Exhibition​​, Pearl Lam Galleries, Shanghai
— Shure Pop Up Art X Tech《Sound dots》, Huashan 1914 Cultural and Creative Industry Park, Taipei
— Fujui Wang《Transparent Imagery of Sounds》Solo Exhibition​​, Project Fulfill Art Space, Taipei
— CrakedSonic performance, The wall, Taipei
— KuanDu Light Art Festival, Arts Forum, NTUA, Taipei
— Depopulate 06 – White Fungus 15 Release Party, The wall, Taipei
— 《Sound mirror》Exhibition​​, ART HAUS, Taipei
— one city one sound project, China
— Performance​, Taichung Broadcasting Bureau@STUDIO, Taichung Link
— Hypersonic Live Performance, Movie Theatre, NTUA, taipei Link
— Lu Yi performance, Black box, NTUA, Taipei Link
— Sound Mirror, ART HAUS, Taipei
— Perceived Soundscape, Group Exhibition​​, KAOHSIUNG MUSEUM OF FINE ARTS, Kaohsiung Link
— LSF100 performance, the wall, Taipei Link
【2014-2015】
National
China[2015 Business proiect of XXXXX/JINQIAO Shopping mall/Shanghai]Link
Belgium[B!as 2015: Taiwan-Belgium Sound Art Exchange Project/Mons]Link
WA[2015 LIGHT INTERDICTION Exhibition/PS ART SPACE/Fremantle]Link
UK[2015 Soundwatch Performance/Centre for Contemporary Arts Glasgow/Scotland]Link
UK[2015 Soundwatch Performance/Cafe Oto/London]Link
UK[2015 Soundwatch Performance/Shoot the Pianist-The Noise Scene in Taipei1990-95/The Peltz Gallery/Birkbeck School of Arts University of London]Link
China[2015 Business proiect of sound installation/JINQIAO Shopping mall/Shanghai]
Germany[2014 Hyper Transmission in TONLAGEN-Dresden/Festspielhaus Hellerau]Link
China[2014 Fujui Wang Performance Tour At China/LIVE Music Association/Macau]Link
China[2014 Fujui Wang Performance Tour At China/XXX Gallery/Hong Kong]
China[2014 Fujui Wang Performance Tour At China/696 Live House/Shanghai]
China[2014 Fujui Wang Performance Tour At China/HDM Gallery/Hangzhou]
China[2014 Fujui Wang Performance Tour At China/zajia lab/Beijing]
USA[2014 Noise and New Media Performance/Antena Gallery/Chicago]Link
Germany[2014 White Fungus Depopulate 04/N.K./Berlin]Link
Germany[2014 Hyper Transmission in Transmediale/Haus der Kulturen der Welt]Link
Germany[2014 Schizophrenia Taiwan 2.0/Collegium Hungaricum Berlin]Link
【2011-2013】
USA[2013 Queens International Biennial Opening/Queens museum/New York]Link
China[2013 Revolutions Per Minute-RPM:Sound Art China/Shanghai]Link
Germany[2013 Hyper Transmission/URBAN FLASHES IV/The Leap/Berlin]Link
USA[2013 White Fungus 13 Release Event #2 /The Lab/San Francisco]Link
Hong Kong[2013 Hyper Transmission/New Sonic Adventures VOL.3/City University]Link
Japan[2013 Hyper Transmission/The SOUP/Tokyo]Link
Japan[2013 Hyper Transmission/Super Deluxe/Tokyo]
New Zealand[2013 Hyper Transmission/Oakland]Link
New Zealand[2013 Hyper Transmission/Wellington]
New Zealand[2013 Hyper Transmission/Christchurch]
Taiwan
[Hypersonic Live Performance/Movie Theatre of TNUA]Link
[Fujui Hand made electronic workshop/Black Box]Link
[Sound Mirror/Art HAUS]Link
[2016 XXXX-LSF100—PART II : Working Offline]Link
[2015 Digital Art Festival Taipei, Digitopia]Link
[2015 HyperSonic/Polymer Space Taipei]Link
[2015 SUBCONSCIOUS RESTAURANT TAIPEI BOOK FAIR EVENT/Huashan Creative Park Sake Factory Building]Link
[ECLECTIC X B!AS2014/Digital Art Center Taipei]Link
[WHITE FUNGUS # 14 Pages of Fujui Wang Interview /text arrangement and Photos]Link
[Fujui Wang Solo Exhibition : Sound State/Digital Art Center Taipei]Link
[Panerai watches art exhibition/Eslite flagship store Taipei]Link
[2014 YES, TAIWAN – Taiwan Biennial /The National Taiwan Museum of Fine Arts]Link
[White Fungus UNCOVER FESTIVAL/TIGER MOUNTAIN]Link
[White Fungus DEPOPULATE 05/435 Art Zone Banqiao]Link
[2014 The Return of Analog Poetry/MOT ART Gallery]
[2014 Taipei IN Style/Songshan Cultural and Creative Park]Link
[Artroulette 4 Dollar Venture/Elsa Art Gallery Taipei]Link
[Sonic Living by Fujui Wang/DOU Maison gallery Tainan]Link
[Altering Nativism─Sound Cultures in Post-War Taiwan/The Cube]Link
[White Fungus DEPOPULATE 03/Treasure Hill]Link
[LURKING WAVES: Fujui Wang/Collected Objects from the 90s/The Cube]Link
[Fujui Wang Solo Exhibition : HYPER TRANSMISSION/Moca Taipei]Link
[Demolition Eve-Curated by Chen Chieh-jen/Happiness Building/Shulin]
[White Fungus DEPOPULATE 02/The Cube]Link
[White Fungus DEPOPULATE 01/VT Artsalon]Link
[Motion Point/The Public Art/Chunghwa Telecom]
Articles about Lu Yi
— 2017.03.16 "Her Double-tracked Journey of Acoustic Discovery as Arts Administrator and Artistarticles" by Jui-wei Hung (in English)
http://www.flyglobal.tw/en/article-476
— 2017.07.24 "7 indefinable new media artists" by Hao-Yuan Weng (in Chinese)
https://www.bnext.com.tw/article/45425/7-rising-multidisciplinary-artists
— 2018.03.20 "Lu Yi & Sound Art" by Yi-Chun Shen (in Chinese)
http://goodluyi.com/?page_id=3123