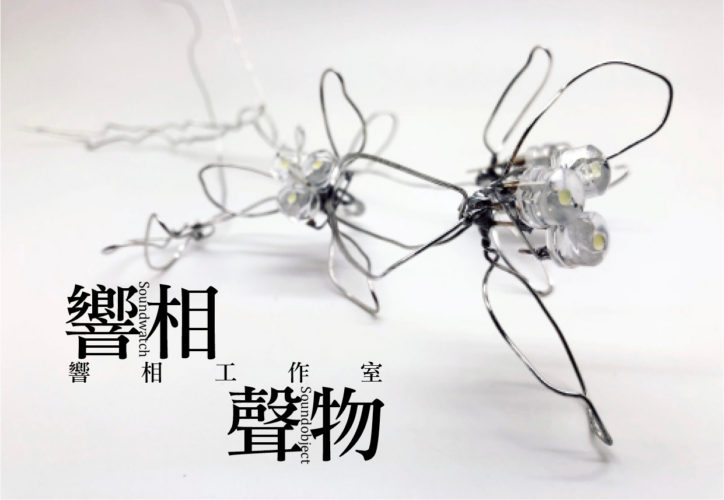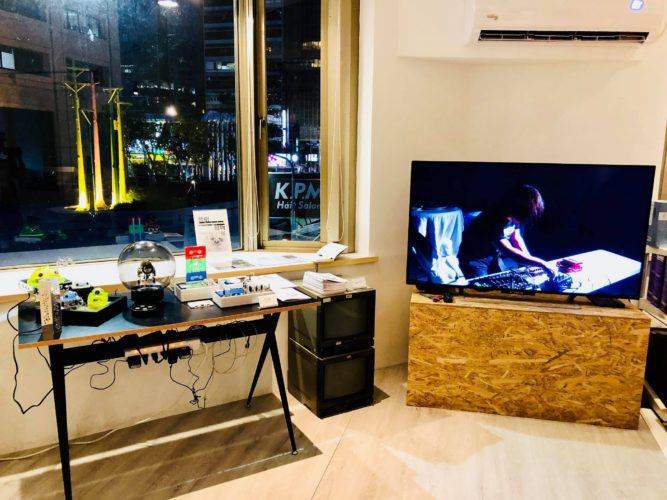 Soundwatch X SoundObject Exhibition II 響相聲物展第二回exhibition opening date is fast approaching. Bottom is the schedule of the opening on 6/30, you are welcome to bring your own drinks.
The opening event will include a snack bar, live performance and a DJ, Fujui Wang, Sèb Lab and I will all be in attendance. This will be the last chance to enjoy Seb's fabulous snack bar as he will leaving Taiwan in November, I hope all of you can join to celebrate 7 years of Soundwatch and the opening of a new exhibition at Digilog.
▴Opening Schedule 19:30-21:30 (2 hours)
-19:30 snack bar
-20:00-20:15 Aluan Wang Performance (15 minutes)
-20:15-20:30 Speech by Luyi、Séb
-20:30-21:00 DJ kimchi (30 minutes)
-21:00-21:30 Closing time
☞「王福瑞 & 盧藝 響相X聲物展」第二回合登場~!聲音藝術裡唯一師徒雙人手工電子創作聲響美學,六月底將再度於DigiLog聲響實驗室登場!
English please scroll down
響相 X 聲物 王福瑞 & 盧藝 雙人展 II
⋆展期:2018.6.30(六) – 2018.9.1(六)
⋆時間:週一至週六 13:30 – 19:30
⋆地點:DigiLog聲響實驗室(台北市中正區羅斯福路三段244巷2弄2-1號2樓)
⋆展覽免費入場
▴開幕茶會:2018.6.30(六) 19:30-21:30 (免費入場,歡迎自帶酒水)
▴開幕主持人:盧藝、林思柏
▴表演嘉賓:王新仁、DJ kimchi
▴FB活動頁:https://www.facebook.com/events/1388929277919370/
☞展言
1993年王福瑞創辦了台灣最早的實驗音樂廠牌和刊物「NOISE」,成就了台灣聲音藝術教父地位後,很少人知道其藝術家個人創作之外的現況,至今2018年大家所見到的展覽都以福瑞「個人」創作為主軸,因此「王福瑞&盧藝 響相X聲物展II」想呈現單人以外的創作面相與積澱。2011年盧藝由國小老師轉職,一個門外漢被福瑞領進聲音藝術的大門,開始走在以噪音美學、手工電子、聲響可能性的藝術之路,雙人合作不只在海外巡迴表演與聲藝專案中,更希望以非藝術品視角製作的作品,帶來另外聆聽的美學。
展覽中以手工電子裝置為主軸,呈現聲藝與噪音美學交錯混合的DIY自製發聲器,也預計印刷一本實體刊物,刊物記錄工作室(2011-2018)歷年經營成果與相關收錄文章,希望讓更多人看見並注意到,響相工作室本身存在的價值與經歷。同時也可以讓人知道王福瑞這些年不單只專注在本身的藝術家事業,與事業夥伴盧藝一同經營響相工作室有更多元可能性與發展。
☞藝術家介紹:
王福瑞
王福瑞為台灣早期重要前衛的數位藝術以及聲音藝術家和策展人,他帶領台灣聲音藝術進入了新的領域與發展,1993年以先鋒之姿成立台灣第一個實驗音樂廠牌和出版刊物「NOISE」,2000年加入台灣媒體藝術發展中少數以互動為主的創作實驗團體「在地實驗Etat」,並推動國 際「異響BIAS」聲音藝術展與「台北數位藝術節」聲音藝術類別。他曾工作於台北數位藝術中心以及北藝大藝術與科技中心,並策劃多場相關展覽與活動,包含2008年、2009年、2010 年、2012年的「超響」聲音藝術節,2007年至2009年的「台北數位藝術節」。2011年與盧藝成立「響相工作室」,持續致力推動海內外聲音藝術相關展覽與表演以及工作坊,該工作室致力嘗試以創新實驗性的聲音作為主要核心概念,執行聲音藝術相關創作與其推廣計畫。
王福瑞目前為北藝大新媒體藝術學系助理教授,他的創作廣為展出於國內外美術館與藝術節,包含台北立方計畫空間、台北就在藝術空間、台北當代藝術館、台北數位藝術中心、台北雙年展、香港巴塞爾藝術展、紐西蘭基督城The Physics Room、柏林電子藝術表演實驗室、卡爾斯魯厄藝術與媒體中心、林茲電子藝術中心、巴黎École nationale Supérieure des Beaux-Arts、芝加哥Antena藝術空間、舊金山The Lab空間、紐約皇后美術館、盧森堡卡西諾當代藝術中心、德勒斯登赫勒勞節慶劇院、格拉斯哥當代藝術中心、倫敦Cafe Oto、里昂國立高等藝術學院、墨爾本維多利亞藝術中心、布里斯本當代藝術中心。他的聲音裝置、作品影像與現場表演發表在不同的出版與媒體,最廣為人知的作品有聲泡(2008)、聲點(2010)、超傳波 (2011)和電磁音景(2012)。
盧藝
盧藝為​「響相工作室」成員、王福瑞事業夥伴​​以及「Sondes」聲音藝術家。王福瑞與盧藝兩人​建立「響相工作室」​,​工作室以廣遠的視角以及組織性、合作色彩的定位,推動台灣與國際​許​多聲音藝術相關計畫。盧藝​為​交通大學應用藝術研究所畢,曾於舊金山藝術大學AAU、舊金山藝術學院SFAI進修藝術。曾任吳興國小美術老師、全球華人藝術網藝評、雙象文創設計。近年來​​於國立台北藝術大學、台北當代藝術館、國立臺灣科學教育館、立賢基金會蒲公英教育計畫…等教導聲音藝術工作坊。除了與王福瑞同台表演外,盧藝也獨立​​在台北數位藝術節「Digitopia 2015」和「超聲波表演Hypersonic 2016」,呈現電磁波、手工自製電子樂器、電路擾動、硬體駭客和類比錯誤聲響演出​。
除了工作室所有海內外聲藝計畫展演執行和聲藝教育工作坊,盧藝與來自法國的視覺藝術家Sébastien Labrunie(林思柏)合作即時現場聲音藝術表演,來自台灣與法國不同文化背景的兩人創作合作Sondes在「失聲祭LSF103」、「大內藝術TAD聲響之夜」、「臺澳聲響演出連線」、「混種現場」、「Pattern Calling」與「兩廳院30週年眾聲之所派對」等多場現場表演中呈現。
作品:
1–王福瑞《VGA Hack》《VGA雜訊》
Year:2018
Dimensions:13*25*5.5cm
此作品為手工模組的發聲器,利用聲音的頻率去干擾影像訊號,透過不同頻率製造出彩色影像合成。
2–王福瑞《Tape Loop》《循環帶》
Year:2018
Dimensions:13*17.5*5.5cm
此作品為王福瑞另一種實驗性的嘗試,與他的主要系列作品區隔,一個無限循環的磁帶呈現冥想的聲音。一般磁帶錄音機都是播放音樂用,這次拿來做為特殊的發聲裝置。
3–盧藝《Electric Sound State》《電聲態》
Year:2018
Dimensions:25*25*15cm
材料:搭棚電路、鏡面壓克力、全彩LED
延續去年2017年在Digilog展出的《時電聲態》作品以光驅動聲音概念,《電聲態》以相同電路改以手工搭棚方式,建構出四組獨立聲響,聲音在LED閃爍時變化,並在圓球裡交互堆疊出具手工電子噪音感的迴圈聲曲。
4–盧藝《Little Sonic》《小聲物》
Year:2017
Dimensions:7*7*10cm, 16*16*16cm
材料:LED、鏡面壓克力、客製電路
跟續先前聲藝兒童工作坊的概念,製作不同尺寸的外星發光聲物家族,每一隻核心均為聲控電路,與不同顏色雷切壓克力組合,希望呈現具可愛生物感的型態。
5–盧藝《Object · Sound · Plant》《物 · 音 · 植》
Year:2018
Dimensions:5.5*5.5*23cm
材料:鏡面壓克力、鍍錫電線、客製電路
藉由現場聲音觸發手工電子植物的明滅,觀見感受其光在格隙間之明暗動態。聲響需要空氣震動為介質,也需要一段時間的聆聽去建構整體,而視覺可以為聲響加乘張力,希望在現場呈現與聲響呼應的細微光影變化。
6–盧藝/王福瑞《SOUNDWATCH-pamphlet 2018》《響相-實體刊物2018》
Year:2018
Dimensions:14.5*20.5cm
記錄工作室(2011-2018)歷年經營成果與相關收錄文章,希望讓更多人看見並注意到,響相工作室本身存在的價值與經歷。同時也可以讓人知道王福瑞這些年不單只專注在本身的藝術家事業,與事業夥伴盧藝一同經營響相工作室有更多元可能性與發展。
☞王福瑞 & 盧藝 響相X聲物展 回顧
http://goodluyi.com/?page_id=2267
☞DigiLog聲響實驗室
DigiLog 帶你看見聲音的不同面向。
音樂由聲音組成、聲音由物理震動而來。聲音和音樂從抽象和結構中找到規律,這是聲音和音樂好玩的地方。DigiLog 這個名稱衍伸自數位(Digital)、類比(Analog),我們專注在電腦音樂、合成器、聲音技術還有數位音樂等相關領域,無論是數位音樂或是類比合成器,DigiLog 期待讓每個人都能發掘聲音的不同面向。
https://digilog.tw/
☞特別感謝:DigiLog聲響實驗室
☞響相工作室FB頁:https://www.facebook.com/Soundwatch/
☞☞☞☞☞☞☞☞☞☞☞☞☞☞☞☞☞☞☞☞☞☞☞☞☞☞☞☞☞
English Info
☞'Fujui & YiLu Soundwatch X Sound_Object II' is coming on June~! the only duo of master and apprentice in Taiwan's sound art, Soundwatch Studio will present an exhibition in DigiLog Taipei again~!
Fujui & YiLu Soundwatch X Sound_Object II
⋆Date:2018.6.30(Sat) – 2018.9.1(Sat)
⋆Time:Monday to Sat. 13:30 – 19:30 (Closes on Sunday) Free admissions
⋆Venue:DigiLog https://goo.gl/maps/J2SeC8iyBgJ2
⋆Free admissions
▴Opening:2018.6.30(Sat) 19:30-21:30 (own drinks welcome/allowed in)
▴Opening Moderators:Yi Lu, Sébastien Labrunie
▴Opening Performance:Aluan Wang、DJ kimchi
☞Introduction
For many people, Wang Fujui remains the founder who created the first magazine 'NOISE' in 1993. The initiative defined his status as the pioneer/godfather of sound art in Taiwan. As for his status quo, he is known most only for his personal artistic practice. Many of his exhibitions revolve around such "individual" creation. Yet this exhibition intends to represent another kind of creative aspect and accumulation. this exhibition also represents a result of a close collaboration carried out by Soundwatch studio co-founded by Wang and Yi Lu from 2011-2018.
The core of the show are hand-made electronic installations which mixing sound art and noise aesthetics; there will also be a pamphlet 'Soundwatch X Sound_Object' which not only contains information of the studio (from 2011-2018) but also attracts more people's attention about the value of the studio's very existence and its experience of realized projects.
☞Artists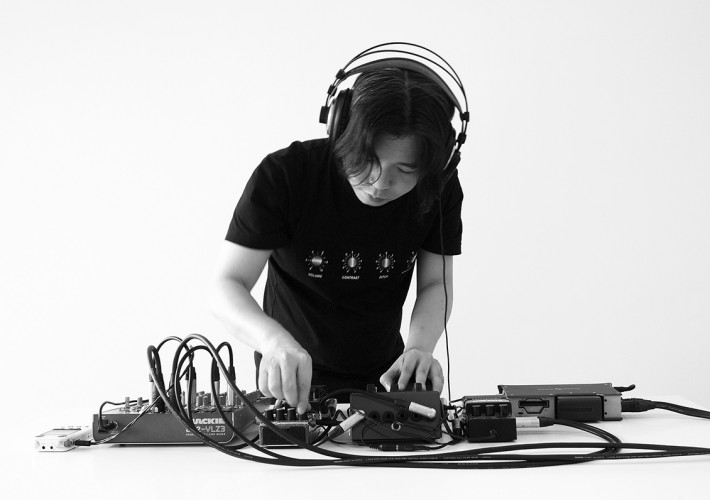 Fujui Wang
Fujui Wang is a sound artist and curator specialized in sound art and interactive art whose work has played a key role in establishing sound as a new artistic genre in Taiwan. A pioneer of sound art in Taiwan, he founded "NOISE" in 1993, the country's first experimental sound label. In 2000 he joined the media art collective "Etat" and launched the "BIAS" International Sound Art Exhibition and Sound Art Prize for the Digital Art Awards Taipei. He worked for the Taipei Digital Arts Center and the Center for Art and Technology, TNUA, he has curated numerous exhibitions and festivals, including the 2008, 2009, 2010 and 2012 editions of the "TranSonic" Sound Art Festival and the 2007 to 2009 editions of the "Digital Art Festival Taipei". In 2011 Fujui Wang and Yi Lu have co-founded the Soundwatch Studio to promote the creation, exhibition, performance and workshop of renovating and experimental audio art both locally and internationally.
Fujui Wang is currently an assistant professor of the Taipei National University of the Arts, Department of New Media Arts, TNUA. His work has been widely exhibited in museums and festivals in Taiwan and abroad, including TheCube Project Space(Taipei), Project Fulfill Art Space(Taipei), Museum of Contemporary Art Taipei, Digital Art Center Taipei, Taipei Biennial, Art Basel Hong Kong, The Physics Room(Christchurch,New Zealand), Lab for Electronic Arts and Performance(Berlin), ZKM(Karlsruhe), Ars Electronica Center(Linz), École nationale Supérieure des Beaux-Arts(Paris), Antena(Chicago), The Lab(San Francisco), Queens Museum(New York), Casino Luxembourg, Festspielhaus Hellerau(Dresden), Centre for Contemporary Arts Glasgow, Cafe Oto(London),Ecole Nationale des Beaux-Arts de Lyon, Arts Centre Melbourne and The Institute of Modern Art(Brisbane). His sound works,videos and live performances have been issued on publications and media, most notably, Sound Bulb(2008), Sound Dots(2010), Hollow Noise(2011) and Electromagnetic Soundscape(2012).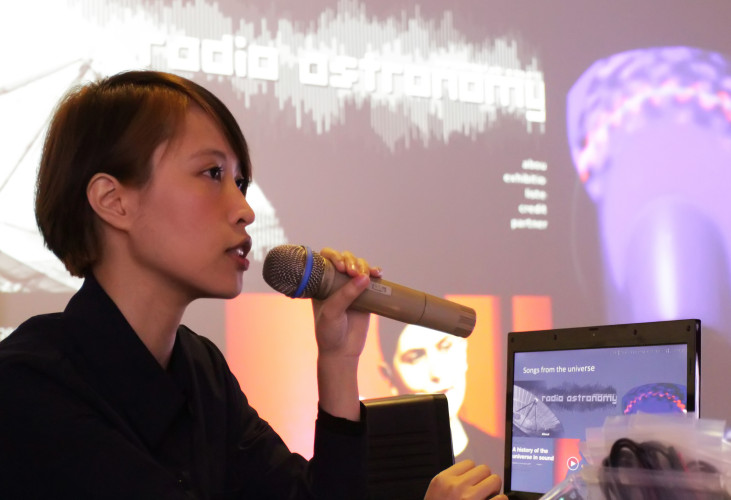 Yi Lu
Yi Lu is a ​member​ at Soundwatch Studio, and collaborator to Fujui Wang—a pioneer in Taiwan's sound art scene, also a sound artist at Sondes. Yi Lu and Fujui Wang established the Soundwatch Studio to promote the creation, exhibition, performance and workshop of renovating and experimental audio art both locally and internationally.​ ​Yi Lu​ ​pursued MA degree in the Institute of Applied Arts at National Chiao Tung University​, ​She took additional program of art from the Academy of Art University and the San Francisco Art Institute​.​She worked for Wu-Shi elementary school, a website as an art correspondent,also worked for Culture X Creativity Design Company. ​Yi Lu has drawn on her previous experiences working in education to organise sound art workshops at several prestigious institutions, including The Taipei National University of the Arts, Museum of Contemporary Art Taipei, and The National Taiwan Science Education Center and The Shiner Education Foundation. Yi Lu has appeared performing alongside Fujui​ Wang​, with different sound forms of performances​. Besides the Yi Lu​ ​has appeared​ solo​ at the "Digitopia Digital Art Festival Taipei 2015"and "Hypersonic 2016", ​using​ electromagnetic waves, home-made electronic instruments, circuit bending, hardware hackers, and analog errors​ to create immersive sonic environments.​
Apart from running the studio with Fujui Wang, widely exhibited and performed in museums and festivals in Taiwan and abroad, also Yi Lu has been done many sound art workshops. In addition, Yi Lu has collaborated with french visual artist Sébastien Labrunie to do many live performances, as a name "Sondes", a mix of cultural performing simultaneously providing noise sound with home-made electronic instruments and real-time interactive visuals, presented in "Lacking Sound Fest.103", "Taipei Art District Party Night 2017", "The Book of Daughters", "On SiteGenerative the night", "Pattern Calling" and "Electric Indigo" party night on NTCH 2017"…etc.
☞Fujui & YiLu Soundwatch X Sound_Object 2017/Retrospect
http://goodluyi.com/?page_id=2267
☞DigiLog
DigiLog is your perspective of sound.
DigiLog is obsessed with computer music, synthesizers and audio signal processing. Our label "DigiLog" condenses "digital" and "analog", as we are interested in both digital and analog music. We hope everyone visiting this place can find his/her favorite "Sound".
https://digilog.tw/
☞Thanks:DigiLog
☞Soundwatch Studio FB Page:https://www.facebook.com/Soundwatch/